In today's rapidly evolving business landscape, where data and information management are paramount, choosing the right tools is crucial for success. Two of the most important systems in this regard are Product Information Management (PIM) and Enterprise Resource Planning (ERP). While both PIM and ERP systems play pivotal roles in streamlining business operations, they serve distinct purposes.
Let's explore the differences, similarities, and how these two solutions can complement each other for efficient business management.
What is PIM?
PIM is a dedicated software solution designed to centralize and manage product-related data and content. PIM systems excel in organizing and enriching product information, including specifications, images, descriptions, and pricing, to ensure consistency and accuracy across various sales channels.
What is ERP?
ERP is a comprehensive software solution that integrates and manages various business processes across an organization. ERP systems encompass a wide range of functionalities, including finance, HR, inventory, manufacturing, supply chain, and more. They serve as a central hub for managing critical business data and automating workflows.
Key Differences between PIM and ERP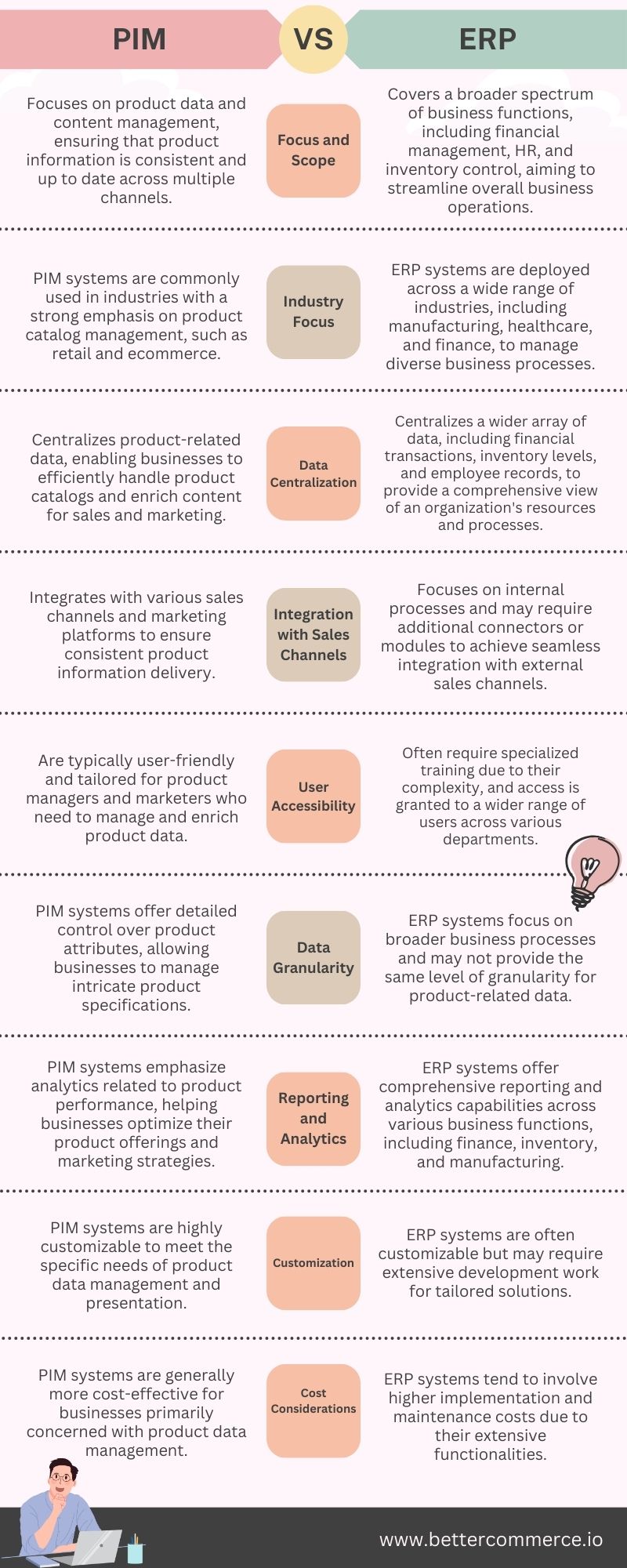 Finding the Right Balance
In the PIM vs ERP debate, it's not about choosing one over the other; it's about finding the right balance for your business needs. PIM is indispensable for managing product data and ensuring consistent messaging across sales channels. ERP, on the other hand, provides a holistic view of your business operations.
When to Choose a PIM?
Choose a PIM system when your primary focus is on managing and presenting product-related data, especially if you are in industries like retail or e-commerce. PIM is ideal for:
Maintaining Product Consistency: When you need to ensure that product information, such as descriptions, images, and prices, remains consistent across various sales channels.
Large Product Catalog: If you have a diverse and extensive product catalog with many variations, a PIM system can help organize and enrich this data efficiently.
Digital Marketing: PIM systems are valuable for digital marketing efforts, ensuring that your product information is accurate and appealing to customers online.
E-commerce Emphasis: If your business relies heavily on e-commerce and online sales, a PIM system can help you effectively manage and optimize product data for digital channels.
Digital Asset Management: PIMs are well-suited for businesses with a large volume of digital assets, such as images, videos, and product-related content, which require organization and easy retrieval.
Content Enrichment: If you need to enhance product information with detailed descriptions, specifications, and marketing content to engage customers, a PIM system provides the necessary tools.
Data Syndication: PIM systems excel at distributing product data to various sales channels and marketplaces, ensuring that your products are presented consistently across the digital landscape.
Multichannel Sales: PIM systems bring about consistency among all your sales touchpoints and provide an omnichannel experience. You can manage all your sales touchpoints through a single dashboard.
When to Choose an ERP?